Day 10, Gipsy King Tour
Paramount Hudson Valley, Peekskill New York
After a long bus ride that departed at 2am, we arrived in Peekskill, New York at 9 am. and found where catering had breakfast ready for us. The Paramount is a beautiful old theater in the heart of historic old Peekskill center. It was small and quaint but had no dressing rooms so we used the bus as home base. No problem:-)
I had a great time exploring some great clothing stores, while Rich found some quaint pubs, of course. I couldn't get out of a fabulous artisan boutique, QuirkShop, where I found a beautiful coat that I am planning on having resized...stay tuned for that but here are some photos of the jacket.
We walked around this idyllic upstate New York town on a beautiful late summer day.. There was a farmer's market and lots of cute shops and cafes. It was so nice to see a thriving small town with small businesses thriving and no big multinational corporations destroying the character and lifeblood of the community.
We found our way down the hill to the banks of the Hudson River. Again the historic waterfront of Peekskill was charming with its paths, parks, shops, and cafes. We found an interesting curiosity shop with all kinds of old collectibles and odd things from a long time ago.
The old train station is still functioning and trains were coming and going all afternoon. We walked through parks along the river and made our way to a nice outdoor cafe and had lunch. It was beautiful and delicious!
We took our time walking back up the hill towards the town center and made our way back to the theater and did our soundcheck. By then it was time for dinner and the caterers set up a beautiful dinner in the historic building next door to the theater. After dinner we went back to the front of the theater and set up the merchandise table in the lobby, which we do every night. Then we went to the bus and got ready for our show.
Our friend Patti Hupp showed up early and helped me with an issue I was having with my outfit for the evening. We ended up switching pants so I had a darker pair of pants to match the shiny sequin top I bought that afternoon, needless to say, I LOOKED SMASHING (Thanks Patti). We hung out in the bus with the awesome crew we share it with. It is a fun bunch of people! Patti's husband, Kevin, showed up and it was showtime.
We are loving all the venues on this tour. We really are lucky we get to play in such beautiful places with such incredible stages, sound, and lights. WE ARE IN HEAVEN! Rich has actually started wearing a suit and tie to perform in because the theaters are at such a high level he feels he needs to dress accordingly which means that I have to up my game too. He sweats WAY more than me though.
After our performance we have 90 mins to pack up and do whatever we want while the Gipsy Kings are playing so we usually run out into the town for a quick drink. When the Gipsy Kings are doing their encore songs, which are Bamboleo and Valare, we run our asses off back to the merchandise table to greet everyone coming out of the theater.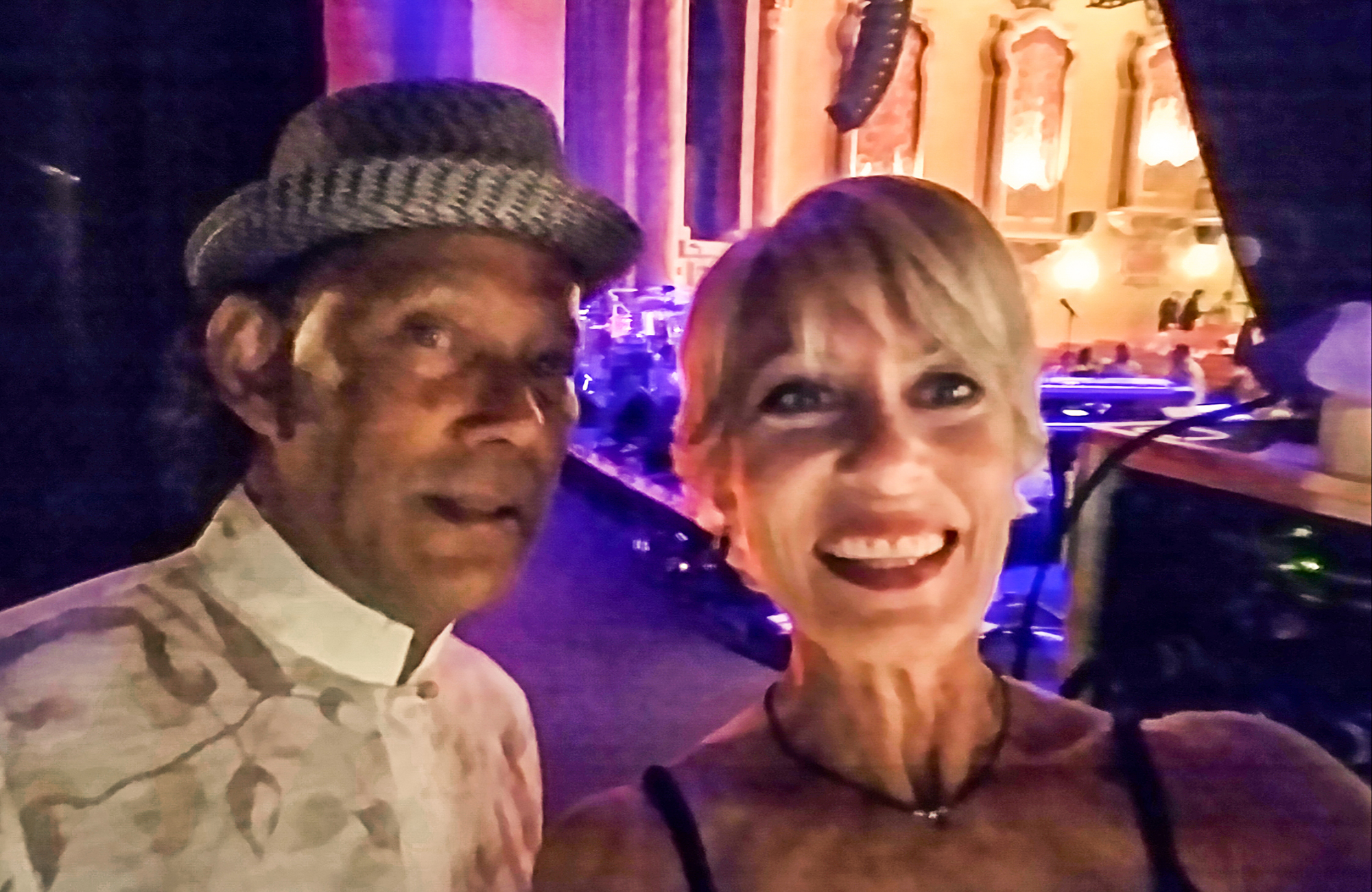 We love hanging out with the patrons after the show! We are making so many new friends and fans on this tour. The Gipsy Kings fans are wonderful music fans. They really seem to love musicians playing their hearts out, which is what we do. Rich's hat is quite recognizable so he is quickly approached by many people after the show in the lobby. I usually man the merchandise table while he attracts fans over to us.
After the crowds left and the theater emptied out we packed up our stuff, put the merchandise back on the bus, grabbed a small overnight bag and met up with Kevin and Patti for a bite to eat at a local late night pub. We had a great time with our dear friends and loved having the chance to catch up on life. Finally we said our goodbyes and took an Uber to Stamford, Connecticut where we were to meet our manager, Jonathan McHue for a sailboat ride the next day. It was a long drive late at night but we arrived safely at our hotel at 2:00 in the morning, crawled into bed and had a good night sleep.
If you're in the Midwest or Northeast USA in September we would love for you to join us at one of the many venues we'll be performing in. Below we have listed the tour dates.
PARK88 Tour with The Gipsy Kings
9/22 – Peekskill, NY – Paramount Hudson Valley
9/23 – Newark, NJ – The New Jersey Performing Arts Center
9/25 – Huntington, NY – The Paramount
9/27 – North Bethesda, MD – Music Center at Strathmore
9/28 – New York, NY – Beacon Theatre
9/29 – New York, NY – Sidewalk Cafe (PARK88 show!)
9/30 – Medford, MA – Chevalier Theatre
The Fearlessness Vinyl LP Is Available For Order Now!
Our vinyl has arrived! We pressed a limited number of vinyl records packed with some songs that have NEVER been recorded and are not on the new EP (plus, the EP has versions of songs that are NOT on the vinyl so you'll want to make sure you purchase them both…see special package below). Supplies are limited.
You get the Vinyl Record, autographed by Rich & Lisa AND the new EP/CD for one low price of $30.00. All autographed vinyl records will be signed and numbered and will come with a special "Thank You" note from us! Visit our STORE to get yours! Supplies are limited.
NEW VIDEO and SINGLE RELEASE
The new video and single for The Fearlessness is the title song. This rocking anthem about being fearless is a timeless song. The song is going out to radio stations across the United States right now and being added to more stations every day. The single will be available as a digital download on September 7th as well.
The video was shot by Bryce Johnson at the top of the Park City ski resort (10,000 feet above sea level!) and right where we got married 25 years ago so it is a very special spot. This is the first time we've worked with Bryce and we think you'll agree that it's an incredibly beautiful work of art! We'll be promoting the video and single all over the place so please help us make it go viral by sharing and posting on any and all social media. We SO appreciate our fans help!
Thanks!
Visit Our Store and Check Out Our New Band Merch!
We've been working around the clock to get our STORE page with all our NEW merchandise up on our website before we left for The Gipsy Kings tour and we are excited to say its now live!!! (Thanks to Aly, our amazing and creative website angel!) We are offering; Woman's, Men's and Unisex T-shirts, Tanks, Long sleeve tops, Hoodies, and Coffee Mugs! And soon there will be posters, stickers and buttons so keep checking back this week for the grand opening of our virtual store where we hope all your happy PARK88 needs will be met.